SOUTH CENTRAL
Full Contact, International & Muay Thai Rules
Regional Seeding Tournament
June 10th, 2006
Memphis, Tennessee, USA


This is A NON-MANDATORY Regional Seeding Tournament
ANY Fighter in the SOUTH CENTRAL Time Zone May Attend to Attain a Higher Seeding at the World Classic.
---
STATES INCLUDED IN THIS REGIONAL:

SOUTH CENTRAL Time Zone

REGISTRATION DEADLINE: June 1st, 2006
WEIGH-INS: TBA
REGISTRATION FORMS: CLICK HERE
RULE STYLES:
REGIONAL DIRECTOR: Mr. Jeff Mullen
VENUE: New Daisy Theater on Beale Street, Memphis, Tennessee, USA
WEB PAGE: This Page
CONTACT: Mr. Jeff Mullen
PHONE CONTACT: (901) 406-2460
E-MAIL CONTACT: jmullen@memphis.edu
---
2006 EVENT RESULTS
RESULTS FROM
IKF SOUTH CENTRAL
REGIONAL SEEDING TOURNAMENT
Memphis, Tennessee, USA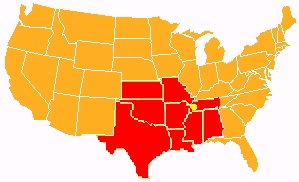 IKF Regional Promoter Jeff Mullen has completed his south Central regional Seeding Tournament. The event took place this past Saturday at the New Daisy Theater on Beale Street in "Elvis Town" Memphis, Tennessee, USA. Here are the results below.
IKF Regional Tournament Seeding Bouts

MTR - 159: Zach Delarocha defeats James "Mike" Wilson
MTR - 179: Daniel Kim defeats Brian Swatsenbarg
MTR - 142: Larry Beals defeats Marc Nopprapun



IKF Non Regional Tournament Seeding Bouts

IR: Billy Clark defeats Eli Mcglothlin (IR)
FCR: Alex Ehret defeats Chris Russell (FC)
FCR: Creston Glanz defeats Justin Jinks (FC)
IR: Randy Fields defeats Carter Brunelle (IR)



WALKOVERS

JUNIORS

Junior Full Contact Rules

Thomas Spyder Epley, 108, 11.



Junior International Rules

Jessica Mobs, 106, 15.
Ami Diggs, 106, 16.
Cameron Tidwell, 117, 13.
Chandler Duncan, 95, 13.
Rudy McGlothlin, 112.
Eli McGlothlin, 142, 14.
Michael Evans, 132, 17.
Jared Sturgehill, 137, 12.
Christopher Young, 137, 16.
Zach Redding, 186, 16.
Julian Porch, 215 lbs 15.



Junior Muay Thai Rules

Billy Clark, 142, 15.



ADULTS

INTERNATIONAL RULES

Mariea Snyder, 112.
Micah Riley, 127.
Natalie Cavin, 230.
Chris Russell, 132.
Steve Snyder, 159
Randy Fields, 172.
Jessie Lawrence, 195.
Bobby McElyea, Super Heavyweight



MUAY THAI RULES

Creston Glanz, 153.
Carter Brunelle, 172.
Shane Prather, 195.



FULL CONTACT RULES

Alex Ehret, 132.
Justin Jinks, 153.
Jeau Kung, 186.
Wallace Britton, 215.
For more info please contact Mr. Jeff Mullen At (901) 406-2460 or by e-mail at jmullen@memphis.edu For additional news about this regional click HERE!
---
2006 IKF World Classic Finals Page
2006 Main World Classic Page - 2006 World Classic Finalist Page - 2006 World Classic Finals Page - 2006 World Classic Finals Officials - World Classic Rules - World Classic Regional Tournaments
FC: Full Contact Rules - IR: International / Leg Kick Rules - MT: MuayThai Rules - Junior Rules - Ages 8-17
Main Tournament Page - IKF Home Page